The Direwolf guild is the second strongest guild of magical users in the world of Langar, run by guildmaster Syra Galera the Dragon Slayer mage.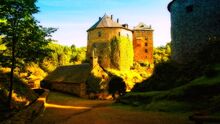 Location
Currently, the locations of it's whereabouts are unknown. Though it is shown to be in a meadow, surrounded by trees and plains. The climate around it looking relatively peaceful. The main building of the Direwolf guild has a simple appearance, having only a hall, stables, a farm, a watchtower and the quarters for all the members to sleep and eat. However, the Direwolf guild seems to have resources and guild halls spread out across the continent, to the extent of the former HQ of a guild of Sergal hunters who resided in the mountains.
Power
Before Syra became the guildmaster, the Direwolf guild was a simple and average guild with not them much fame and renown. Syra and Luke worked together to improve their guild, the morale of the members, the territory, and even the power. It has reached an astounding level as the second most powerful guild of mages in Langar.